About Us
Learn about the mission, services and staff contacts for UCSD's CARE at the Sexual Assault Resource Center.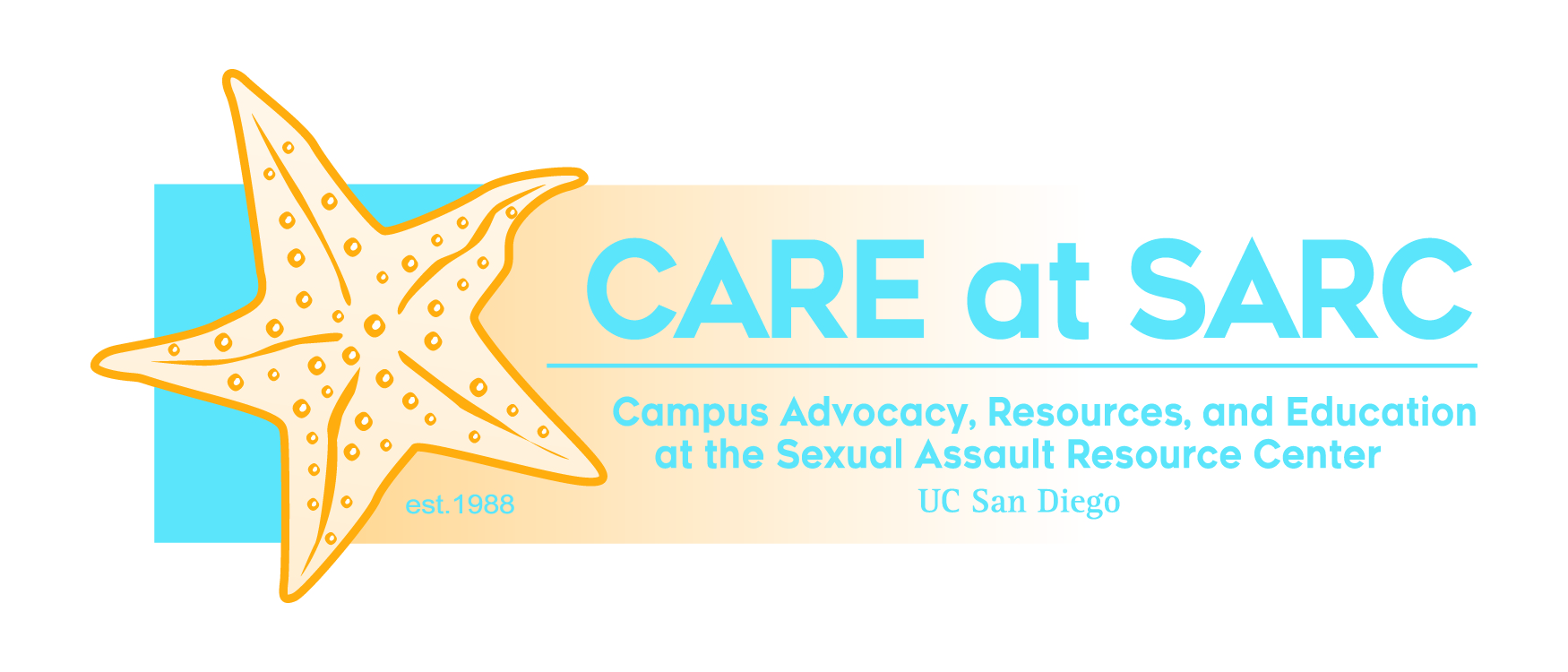 Campus Advocacy, Resources, and Education at the Sexual Assault Resource Center (CARE at SARC) -- CARE at SARC is an independent confidential campus resource for individuals impacted by sexual assault, relationship violence, and stalking. CARE at SARC also provides comprehensive prevention education and trainings for UC San Diego students, staff, faculty, organizations, and departments. CARE at SARC provides free and confidential services for students, staff and faculty who are survivors, or those supporting survivors. CARE at SARC serves as the primary point of contact for victims and survivors who need advocacy, support services and/or assistance with reporting options.
Due to the call to action by UC President Janet Napolitano to have a system-wide consistent model for the prevention and response to sexual violence, SARC has changed its name to CARE in January 2015.
Our Mission
Since our creation in 1988, CARE at SARC has been dedicated to creating a safe and respectful community that does not tolerate sexual assault, relationship violence, and stalking. Through policy development and campus wide collaborations, we are committed to providing education and support services that empower students, staff, and faculty.
Our Work
Support Services
We offer free and confidential* services for registered UC San Diego students, staff and faculty who are victims and/or survivors of sexual assault, relationship violence and stalking, as well as friends and families of the victim/survivor.
*Warning: Communication on the Internet is NOT secure; third parties may view and store confidential communication. All communications with users of CARE services are privileged and confidential under California Evidence Code Sections 1035.2 and 1037.2. Accordingly, employees in the CARE Office are not mandatory reporters under Title IX or the Jeanne Clery Disclosure of Campus Security Policy and Campus Crime Statistics Act.
Education and Outreach
CARE at the Sexual Assault Resource Center offers workshops and training on violence prevention for the entire UC San Diego campus. Our workshops focus on understanding healthy relationships, clarifying consent, online safety, how to be a responsive bystander, and how to help a victim/survivor.
We also provide training for student workers, staff, and faculty. Our trainings focus on referring and reporting information, definitions, campus safety and community dynamics. Learn more about our various programs and how to request a program.
Our History
Established in 1988, CARE at the Sexual Assault Resource Center has been a standard-bearer of survivor support services and prevention education for campus sexual assault, relationship violence, and stalking. The launch of the program came from a group of dedicated staff and students who had been advocating for rape prevention education and victim services since 1979. Initially named, "Student Safety Awareness Program," the department was staffed by one professional staff member and two student interns. CARE at SARC was one of the first holistic and stand-alone campus victim services programs within the UC system, meaning that CARE at SARC has always provided direct victim services as well as spearheaded UC San Diego violence prevention efforts. As the need for services and education grew, so did the program. CARE at SARC has received over $1,000,000 in federal grants that helped support innovative violence prevention campaigns ("UCSD Most Guys"; "Every Little BIT Counts"; "Colors of CARE"); increased the number of professional staff within the department, and enhanced direct services for survivors.
In 2018, UC San Diego's CARE at the Sexual Assault Resource Center will commemorate its 30th Anniversary. This is a celebration, acknowledgement, and reaffirmation, that since its creation in 1988, CARE at the Sexual Assault Resource Center has been and always will be dedicated to creating a safe and respectful UC San Diego community.
Our Team
Interim Director (jmheredia@ucsd.edu) she/her/hers
Jessica has been the Assistant Director and a victim advocate since 2008. Before working with CARE, Jessica worked within various outreach and retention programs with historically underrepresented students and first generation college students. In her role at CARE, Jessica's responsibilities include strategic planning for CARE; organizing key policy and protocol initiatives; providing confidential survivor support as an advocate, and serving as support liaison to campus-based organizations and programs. Jessica co-chairs the UCSD Coordinated Community Response Team (CCRT), which includes over 50 campus and community stakeholders. Jessica is a first-generation college graduate (UCSB Alumna) who was born and raised in San Diego. She has a MA in Women's Studies and has applied her academic background and experience in the development of CARE's educational efforts. She has previously worked as adjunct faculty for the Department of Women's Studies at San Diego State University. Jessica's education and training specialties include: intersectionality & violence, non-traditional & holistic approaches to healing, feminist theory & violence, healthy sexuality, critical media analysis, policy & legislation, training for first responders. In her free time and as part of her self-care, Jessica enjoys spending time with her family, listening to music, reading, and boxing.
Victim Advocate (cpvillaflores@ucsd.edu) she/her/hers
Cindy Villaflores is a certified Sexual Assault Advocate/Counselor and has over eight years of victim advocacy experience in a variety of community settings. She has been a victim advocate with CARE since November 2016. Prior to her current position, Cindy was the Sexual Assault Victim Advocate for the Navy's Sexual Assault Prevention and Response program at Naval Base Point Loma (NBPL). Cindy has also worked at the local San Diego Rape Crisis Center, Center for Community Solutions, as the East County Sexual Assault Victim Advocate. Her passion is in providing survivors who have experienced gendered based violence with a supportive, empowering and non-judgmental advocacy approach where they can explore all options, rights and resources. Aside from providing direct clinical care, she facilitates the sexual assault support group and provides training and education. Her training education focus is facilitating the "How to Support Survivors" workshop where she provides her advocacy insight and expertise on how students, staff and faculty can best support survivors. Cindy is a San Diego native and enjoys the beach, hiking, traveling and eating.
Project Coordinator & Victim Advocate (elg022@ucsd.edu) she/her/hers
Liz has worked in the CARE office since March 2015. Liz received a 60-hour Crisis Intervention Training to become a certified Victim Advocate and now provides direct services to students, staff and faculty. Liz graduated with a degree in Literature from UC Berkeley and is bilingual in Spanish and English. She is a first generation college graduate and has lived abroad in Italy, Germany and Mexico.  Her multicultural identities and life experiences help her focus on providing services to international students whose first language is not English. She also has experience working with victims of crime requesting political asylum to the United States. Liz is passionate about creating a safe space survivors and empowering their choices. Liz has facilitated workshops and trainings to several different groups on campus and is the point of contact for outreach collaborations with international, transfer and graduate students. Liz is an avid runner and traveler and in her free time enjoys combining the two. Liz has visited 16 countries and ran 2 half marathons and plans to add many more to the list.
Special Projects and Graduate Outreach Coordinator (a4cooper@ucsd.edu) she/her/hers
Ashley Cooper is an outreach coordinator with several years of experience cultivating and scaling educational programs. Upon receiving her B.A. in Sociology and Public Health from The Ohio State University, she returned to her hometown of Dayton, OH and became involved in local efforts to re-establish community equity. Her passion for social justice and program development led her to Pepperdine University where she earned her M.A. in Social Entrepreneurship and Change. In her role at CARE, she is responsible for developing relationships with campus partners, facilitating education and prevention training for graduate students, and implementing special projects. Ashley spends her leisure time enjoying the beach, outdoor shopping, and spending time with her daughter.
Intake & Program Coordinator (jml001@ucsd.ed) she/her/hers
Jazmin completed her B.A. in Psychology at the University of Southern California. Before she began working at CARE as the Intake & Program Coordinator, Jazmin worked with students at USC as a residential advisor for their Summer Programs office, and facilitated workshops centered around consent and wellness as a Wellness Advocate for the Office for Wellness and Health Promotion. In her current position at CARE, Jazmin is responsible for the initial crisis intervention and support services through triaging the general office phone line and providing intake services to walk-in clients as well as coordinating programs around the office's prevention and education efforts. As part of her self-care, Jazmin enjoys watching rom-coms, practicing new makeup trends on herself and friends, listening to podcasts, going to concerts, and returning home to visit her friends and family. 
Katarina Gustin
Peer Outreach & Education Intern
Elsa Ban 
Social Media & Marketing Intern
Marcela Davila
Social Media & Marketing Intern