Sexual Assault Awareness Month 2021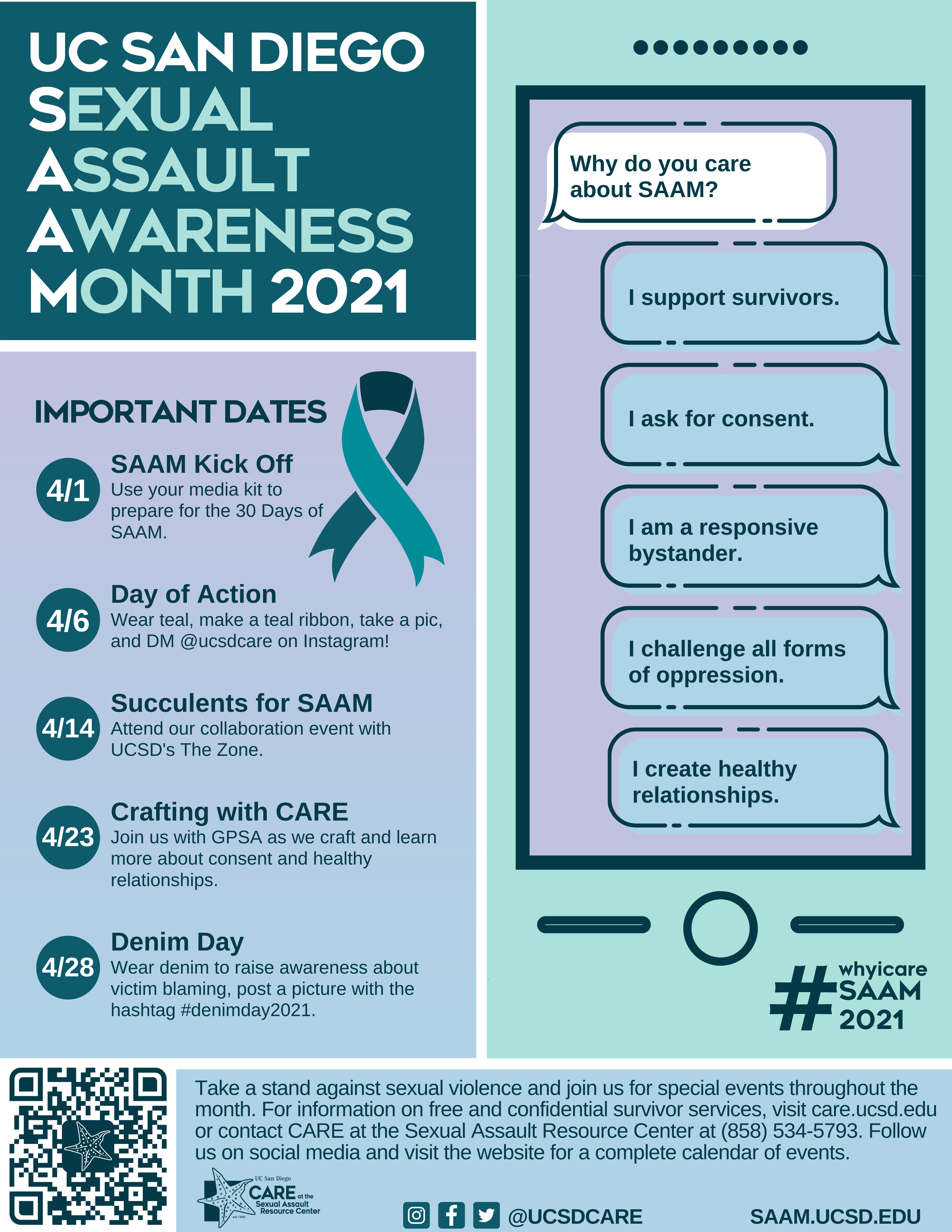 April is designated as National Sexual Assault Awareness Month(SAAM). Sexual assault is an issue that affects our entire community. The goal of SAAM is to raise awareness about sexual violence and to educate communities and individuals about their role in prevention. SAAM has been recognized at UC San Diego since 2007 with efforts led by CARE at the Sexual Assault Resource Center and campus partners.
SAAM Materials
Download the 2021 SAAM Poster.

SAAM Events
Some of the key dates and events during SAAM include:

Week 1
Get ready for 30 days of SAAM by downloading our media kit!
Week 2
Tuesday, April 6: National Day of Action
Wear teal, make a teal ribbon, take a pic, and DM @ucsdcare on Instagram! Connect with CARE at SARC (@ucsdcare) and the National Sexual Violence Resource Center (@nsvrc) on social media all day to show your support and spread awareness about sexual assault.
Thursday, April 8 at 3:00pm: Healing Drop-In Group: The Power of Our Story
This session will explore creative ways for survivors to utilize their stories as tools for healing and social change.
Zoom Link - https://ucsd.zoom.us/meeting/register/tJwlde6opz0qH9cnsgexNeU1zi9USC-zUZNH
Registration is required by 12pm noon on the day of each session. All participants must have an authenticated UCSD email address.
Week 3
Wednesday, April 14 at 12:00pm : Succulents for SAAM -- IG Live
Take a break and recognize the resilience of sexual assault survivors by planting succulents. This event is part of the Zone's Art and Soul series. Tune in at @ucsdcare on Instagram!

Thursday, April 15 at 5:00pm : Out and Proud: A Conversation with Kat Blaque
Join the LGBT Resource Center for their Out and Proud keynote and moderated conversation with Kat Blaque, an Animator, Illustrator and Youtuber from Southern California who has been openly blogging about her life for the past 10+ years on Youtube. She playfully refers to herself as "intersectionality salad" as she embodies various identities and experiences. As a woman and survivor of rape and sexual assault, she is very passionate about fostering conversations where survivors and victims alike can feel as though they have a voice. As an outspoken feminist, she's often on the receiving end of online harassment that she's had to learn to accept as a woman who dares to have an opinion. As a black woman, she is invested in starting conversations about white supremacy and how it's impacted her own life as well as various others. As a Trans woman, she believes that speaking about her growth and acceptance of self is vital in a world where trans people aren't seen as valid and their possibilities are often seen as limited.
Register: http://bit.ly/OutProud21
Friday, April 16 : Consent & Sexual Health -- IG Live
Want to find out how you can prioritize sexual health and consent in your relationships? Join @ucsdcare as we co-host a live discussion with Health Promotion Services on sexual health and consent. 
Week 4
Wednesday, April 21 -CARE Talks - Family, Consent, and Culture: Creating a Culture of Consent with Family
How can you create healthy dynamics within your family regarding consent that still honor your culture and traditions? This is a facilitated dialogue with CARE staff to discuss how you can normalize consent within your family unit. 
*A closed space for BIPOC UC San Diego Staff to discuss race, gender, relationships, and community
Thursday, April 22 at 3:00 pm  - Healing Drop-In: Reclaiming your Body
This session will focus on developing a healthy relationship with intimacy and sexuality after a sexual trauma.
Zoom Link - https://ucsd.zoom.us/meeting/register/tJwlde6opz0qH9cnsgexNeU1zi9USC-zUZNH
Registration is required by 12pm noon on the day of each session. All participants must have an authenticated UCSD email address.
Friday, April 23 at 6:00pm  - Crafting with CARE
Want to find out more about how you can support survivors and respond to disclosures of violence with care? Join CARE at SARC and the Graduate Professional Student Association(GPSA) for Crafting with CARE as we craft responses to survivor disclosures and use them to construct a unique art project.
Registration TBD. 
Accommodation Requests
Please submit requests for accommodations to careinfo@ucsd.edu at least one week prior to the event you are interested in attending.

Take Action during SAAM
Here are some ways for you to take action and support Sexual Assault Awareness Month: 

Participate in a SAAM event with a friend or colleague
Rock a teal ribbon or display a SAAM poster
Use a SAAM Zoom background 
Wear Teal on Day of Action (4/6) and throughout April
Wear Denim on Denim Day (4/28)
Requesting a Program 
CARE staff will have limited availability during the month of April. We will not be able to fulfill the majority of program requests, and priority consideration will be given to requests submitted before March 31st. We encourage you to promote and attend the SAAM events listed above.