IDEAS and Bystander Intervention
IDEAS is UC San Diego's Bystander Intervention Techniques Model for taking action as responsive bystanders who are part of the campus community. The model provides students, staff, and faculty options to intervene and prevent violence on campus.
Historically, violence prevention efforts primarily focused on risk reduction focused on potential victims or perpetrators. In more recent years, prevention has begun to focus on bystanders – third party witnesses to situations where there is a high risk of violence. With their presence, bystanders could do nothing, make a situation worse by supporting or ignoring perpetrator behavior, or possibly prevent a situation from escalating. This approach shifts the focus of prevention efforts to peers and community members with the hopes of moving beyond changing individual behaviors to changing campus culture.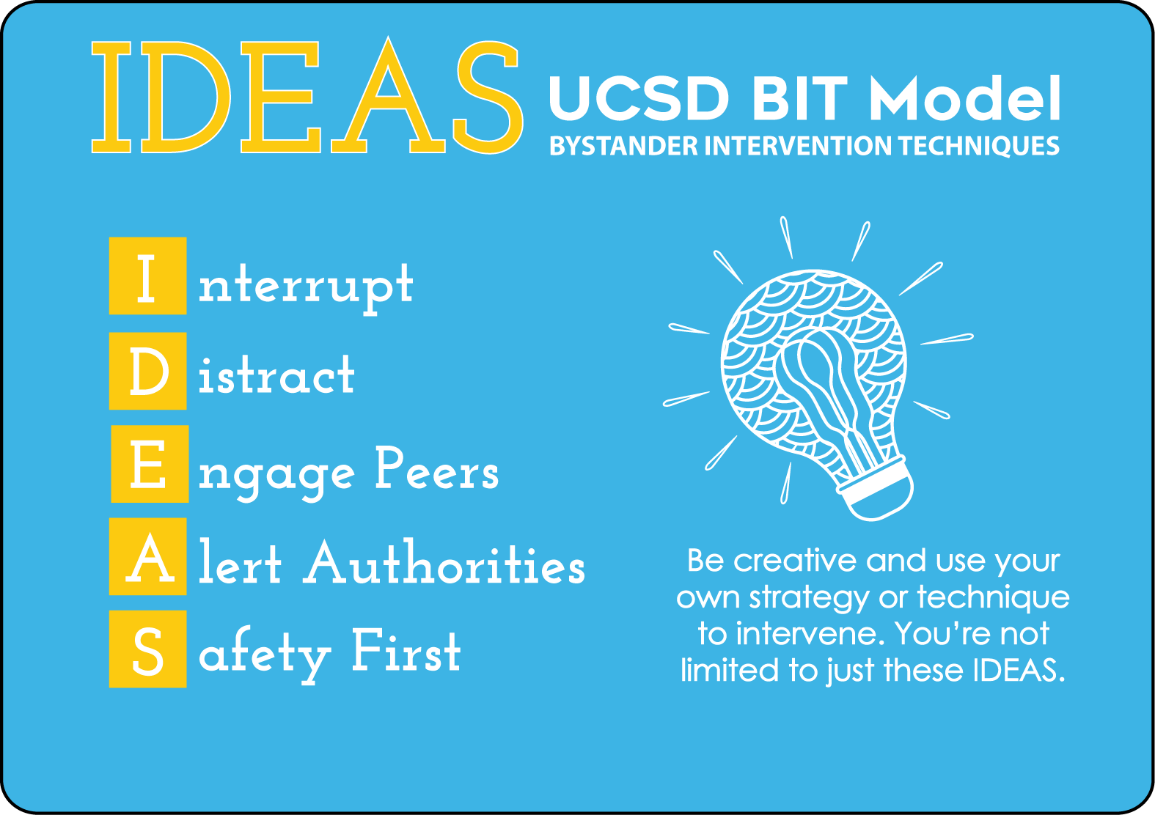 This Bystander Intervention Techniques Model was developed in 2009 by a coalition of UCSD students and staff. Based on a campus survey, CARE at SARC found that many individuals want to say or do something but are not sure what to say or do. Many believe that there is only perfect way to intervene through direct confrontation. The IDEAS model provides options to intervene in a variety of creative ways. 
The IDEAS model also is informed by a diverse UC San Diego campus community where we must acknowledge how intersections of identity inform how an individual might respond as a bystander. The IDEAS model does not privilege one way of responding over another; rather, we support any interventions that prioritize the safety of all those involved.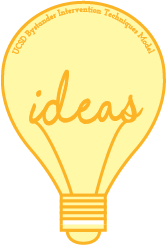 IDEAS stands for Interrupt, Distract, Engage Peers, Alert Authorities, and Safety First.
Below are some examples of how someone can use IDEAS:
I - Ask a question that's not related to what's going on. "Excuse me, where's the bathroom?"
D - Draw attention to something else. "Hey your car is getting towed!"
E – Involve a friend or someone else around you. "Let's do something"
A – In some situations, authorities may be the best source for help. Ex. Police, Deans, RA's, party hosts.
S - Keep your safety and the safety of others in mind and let that determine how you respond.
Interested in learning more about how to be a responsive bystander? Complete our program request form.
We have a few workshops that primarily focus on bystander intervention and IDEAS:
Party IDEAS

What can you do before a party, during a party, and after a party to make sure that you and your friends have a good time? This program is interactive while teaching some important strategies on making sure everyone gets home safe after a party. Discussion focuses on bystander intervention and working with campus resources. (45 minutes - 1 hour workshop)
Practicing IDEAS in Everyday Life

It is important to recognize how bystander intervention can be used on an everyday basis. This program teaches important strategies for intervening in a variety of situations. Discussion focuses on understanding the barriers to intervening, how to apply IDEAS in everyday interactions with others, and working with campus resources. (45 minutes - 1 hour workshop)
Empowering Employees to Intervene for graduate students, staff and faculty (adapted from CARE and OPHD's UC Learning Course, Empowering Employees to Intervene: Sexual Harassment)

An interactive program that explores personal and societal barriers for intervention. Discussion focuses on applying IDEAS in workplace settings and exploring which strategy feels most effective and comfortable to you. (1 - 1.5 hours workshop)