CARE Student Intern Program
CARE at the Sexual Assault Resource Center is the UC San Diego confidential advocacy and education office for students, staff and faculty impacted by sexual assault, relationship violence and stalking. Interns play a critical role in our prevention efforts and they directly inform programming and outreach initiatives through their own experiences and those of their peers.
Intern Roles
Our internship positions for the 2023-2024 academic year have been filled. We will start our application process for the next academic year during spring quarter 2024. Follow us on Instagram (@ucsdcare) to learn when applications have been posted, and we encourage students to apply on UCSD's Handshake website when they do.
Although interns are hired with a specific job function, much of the work they do expands the boundaries of what is listed in the job description. Students typically work 10-15 hours per week, but actual hours may vary depending on the time of the year.
Please fill out this short Student Intern Interest Form if you want to be added to our interest list. Students will be notified once the positions are posted on Handshake during the Spring quarter.

Note: Because of the confidential nature of our office, interns support prevention and outreach efforts and have no direct involvement with survivor support services.
 Spring Quarter
Week 3 – 5: Application submission period

Only complete applications through Handshake will be reviewed.

Applications open on Wednesday, April 17, 2024 and close on Wednesday, May 1, 2024.
Week 6-7: Applications are reviewed and interviews are conducted

Candidates will be considered based on their knowledge, prior work/volunteer experiences, ability to work with professional staff, and alignment with CARE programming philosophy .

Week 8-9: Applicants are notified

All candidates can expect to be notified by email regarding their application by the end of Week 9. 
Eligibility
CARE Internships are open to registered undergraduate students who will be attending UCSD for the 2024-2025 academic year without a leave of absence. The CARE Intern positions are open to students of all gender identities, majors, and backgrounds.
Students with prior conduct violations related to sexual assault, relationship violence, or stalking will not be considered.
Attend an Info Session
Date, time and Zoom meeting information TBA. 
Apply on Handshake (ID TBA)
Positions will be posted on Handshake during April of Spring Quarter 2024. Students must upload a resume and complete a questionnaire through Handshake by 11:59 pm on Wednesday, May 1, 2023.
Summer Training Dates: 
All student interns must be available to attend training on campus during the following dates: 
Monday, August 19, 2024 to Friday, August 30, 2023

(2 weeks)
Intern training will consist of presentations from CARE staff, campus partners, as well as on the job training through office hours and representing CARE at Orientation and Welcome Week events. 
*There may be a possibility where interns may be required to support during one weekend
2024-2025 Weekly Meetings
All student interns must commit to attending weekly meetings on (date TBD) for Fall, Winter, and Spring quarters.
What can I expect if I am offered the intern role? 
Interns are paid student staff who work 10-15 hours per week. Interns learn professional expectations, job-related skills, and the importance of teamwork, effective communication, and understanding personality/work styles. Interns learn the dynamics of a busy and fast-paced office environment as well as the professional etiquette needed to be successful in future employment positions.
Is the office understanding of my student schedule? 
Students are expected to work during business hours as well as have availability to work nights and weekends. Academic success comes first and CARE at SARC takes a holistic approach to student staff supervision, keeping in mind the demands of student life while also holding high expectations and seeking to further develop each student's knowledge, skills, and abilities.
Do I have to have a specific major? 
CARE interns have a wide variety of personal and professional interests. Some have chosen to continue in violence prevention and advocacy whereas others have gone on to graduate and professional schools in their chosen career paths.
Meet CARE's 2022-2023 Interns!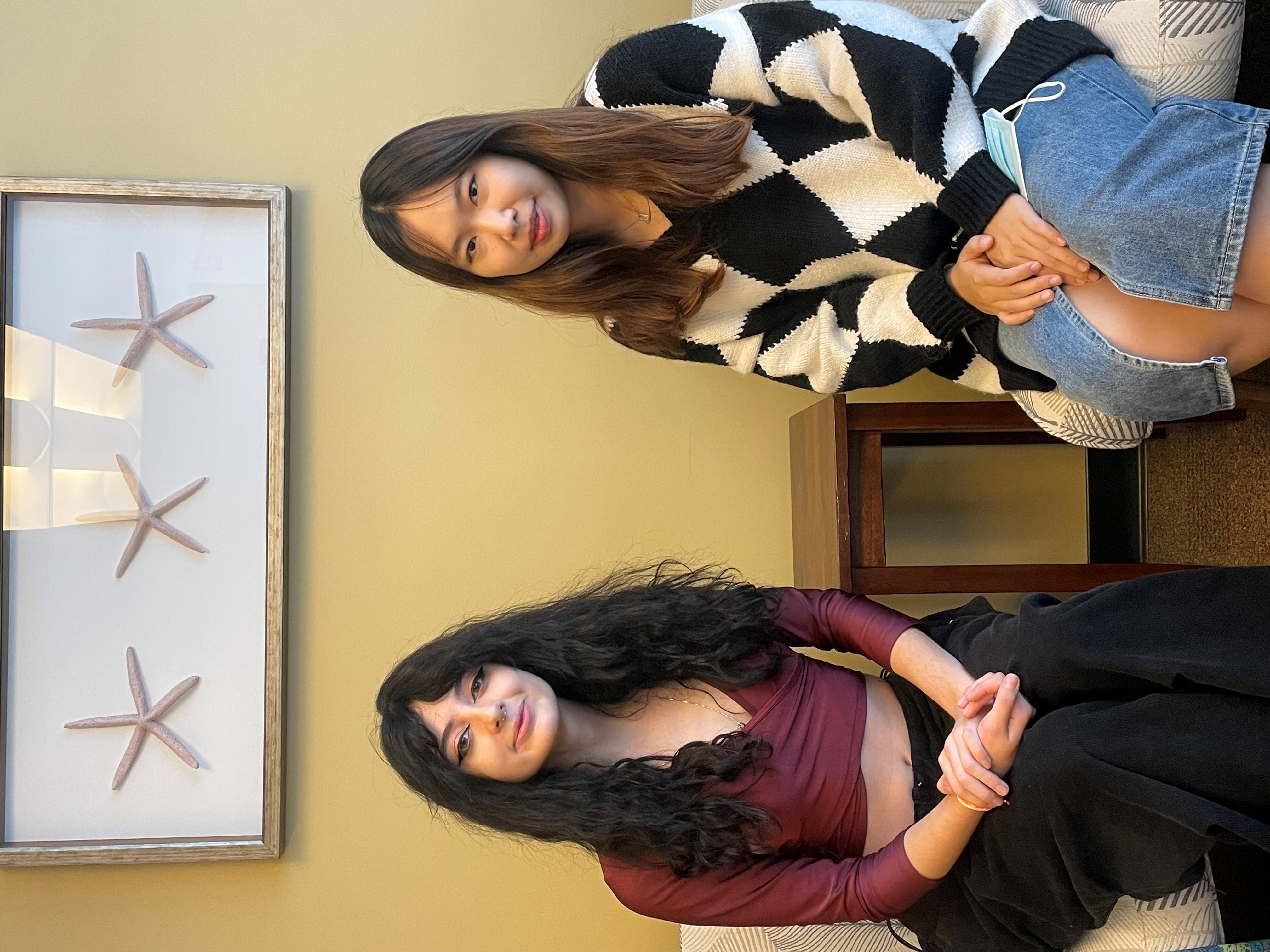 Left: Nikoleta Kalas (they/she) 
Right: Yichen Yang (she/her/hers)